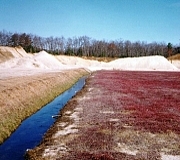 Mason & Associates provided design development and wetland permitting services for a large commercial cranberry grower involved in bog expansion activities. The project included reconnaissance, inventory, delineation, and mapping of state and federally regulated wetlands on a 260 acre parcel for the creation of 35 acres of new bog. Mason & Associates coordinated interagency review and site walks involving Rhode Island Department of Environmental Management Divisions of Freshwater Wetlands, Water Resources, and Agriculture, U.S. Army Corps of Engineers, U.S. Environmental Protection Agency, and the U.S. Fish and Wildlife Service.
An analysis of surficial geological characteristics of the site, including a hydrological study, was conducted to evaluate long term water supply and indirect hydrologic impacts to wetlands. Mason & Associates prepared permit plans and documentation including design of artificial wetlands for water quality improvement.
In response to regulatory agency comments, the firm developed water quality assessments of nutrient and pesticide loading to wetlands and receiving waters. Best Management Practices were developed for a state-of-the-art, efficient, and environmentally sound agricultural operation. Mason & Associates was highly praised by the client for the quality and value of the services provided, and the commitment to meeting project deadlines. All required permits were obtained in record time, allowing construction to commence within a few months of the project's inception.